KUALA LUMPUR, 30 Januari 2019 – Telah berlangsung pelancaran kempen We Are All Mary anjuran Gabungan Wanita Malaysia untuk Al-Quds dan Palestin (MWCQP) untuk menunjukkan sokongan berterusan kepada wanita Al-Quds yang berdepan dengan penjajahan Israel selama lebih 70 tahun.
MWCQP ialah sebuah gerakan solidariti akar umbi yang berhasrat untuk membawa suara wanita Malaysia ke arah pembebasan Al-Quds dan Palestin.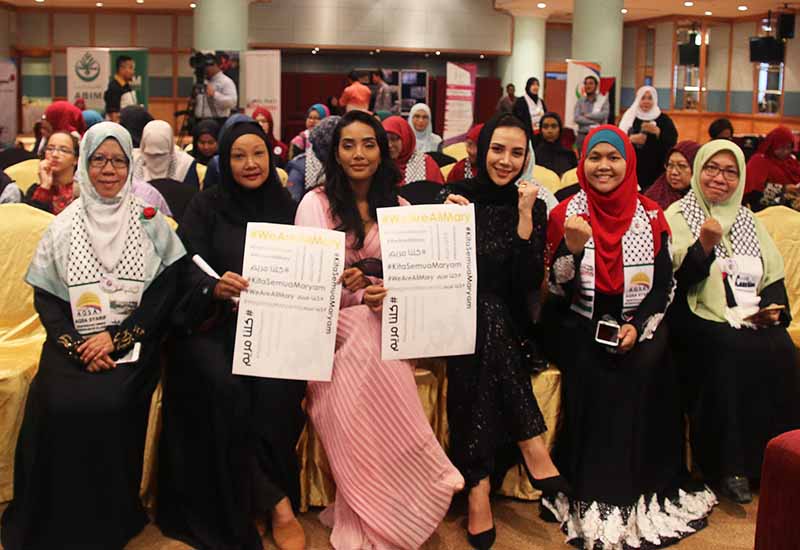 Ahli Lembaga Pemegang Amanah MyCARE, Dr. Fauziah Mohd Hasan merasmikan kempen global itu, yang dipelopori sebuah organisasi berpangkalan di Turki, The International Union of Al-Quds Cultural Education and Research (UKAED), yang menyaksikan penyertaan lebih 30 negara termasuk Brazil, Kanada, Pakistan, India, Sweden, United Kingdom, Switzerland, Lubnan dan Turki.
Turut hadir merasmikan kempen We Are All Mary, Duta Palestin ke Malaysia, TYT Walid Abu Ali berkata Malaysia sentiasa menjadi penyokong kuat, secara politik, kepada Palestin dan sentiasa menunjukkan solidariti mereka di peringkat tempatan, serantau dan antarabangsa. Tiada sebarang keraguan mengenai perkara ini.
Lagi gambar-gambar di album MyCARE
Kempen We Are All Mary yang menggariskan satu projek bagi menyediakan biasiswa pendidikan kepada sekurang-kurangnya lima rakyat Palestin dalam kalangan negara peserta, Walid berkata beliau bersyukur dengan usaha yang ditunjukkan oleh pelbagai pertubuhan bukan kerajaan Malaysia yang bekerja dengan penuh dedikasi untuk Palestin.
"Nurturing Humanity, Making a Difference"