Wakil MyCARE bersama rakyat Gaza di Perhimpunan The Great Return March di sempadan Gaza
Alhamdulillah, semalam Dr. Mohd Zin Kandar berkesempatan menyertai Perhimpunan The Great Return March di sempadan Gaza di dua lokasi berasingan – di timur Shujaiyah dan di Khanyounis selepas menunaikan solat Jumaat.
Beliau bahkan diberi penghormatan untuk berucap mewakili rakyat Malaysia di hadapan ribuan rakyat Gaza dalam perhimpunan di Khanyounis, tempat as-syahidah Razan an-Najjar dibunuh!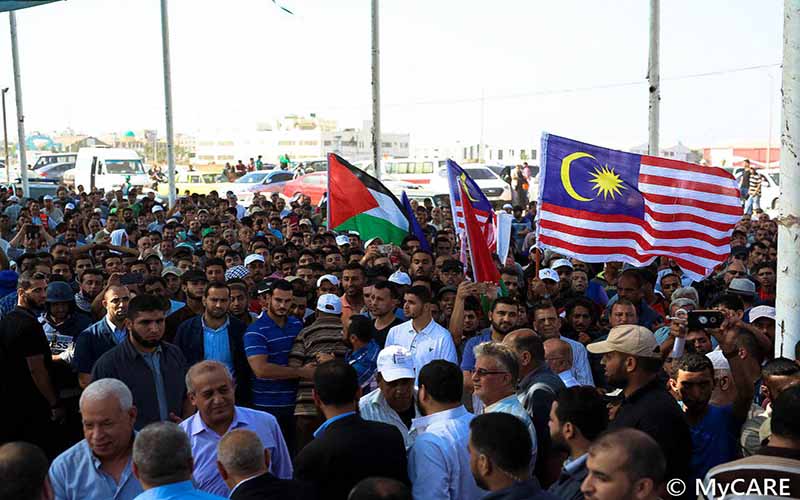 Lagi gambar-gambar di album Aqsa Syarif
Daripada gambar yang dikongsikan, jelas kelihatan tentera-tentera Israel sedang mengawal ketat kawasan sempadan. Sejak Perhimpunan The Great Return March dimulakan pada 30 Mac 2018 yang lalu, lebih 200 orang telah terkorban dan 11,000 orang cedera.
Menurut Dr. Mohd Zin, melihat rakyat Gaza yang berkumpul hari ini, mana mungkin mereka ini menjadi ancaman kepada Israel kerana mereka hanya berkumpul secara aman untuk menuntut hak mereka untuk pulang ke tanah air mereka sepertimana yang diiktiraf oleh undang-undang antarabangsa.
Sesungguhnya Israel telah melakukan jenayah perang yang kejam dengan membunuh kanak-kanak, remaja, wartawan bahkan paramedik yang tidak bersenjata!
Selepas perhimpunan, Dr. Mohd Zin menyertai team MyCARE Gaza menyalurkan sumbangan iftar (berbuka puasa) kepada para petugas perubatan yang berkhidmat di sempadan Gaza.
Teruskan menyumbang ke Tabung Kecemasan Gaza: Operasi Badar 2.0 secara online di www.billplz.com/myramadan